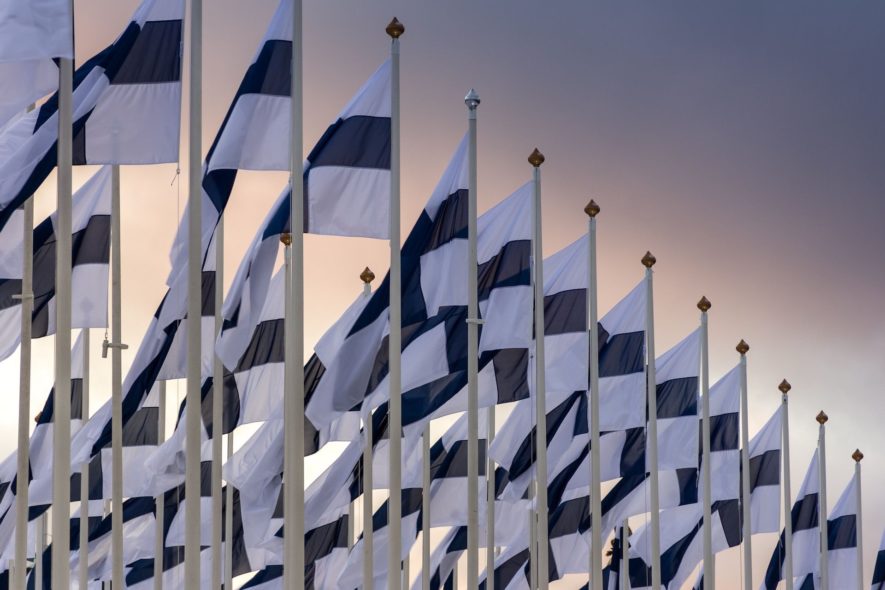 In Finland, many holidays have a Christian background. Among other religious observances, Christmas and Easter, for example, are also celebrated as public holidays. On such dates, many shops and public offices are closed. On public holidays, as well as on other important days in Finland, the national flag is always flown from buildings. In Finland, the national flag is an indication of solemnity. Thus, if you want to salute your Finnish colleagues or partners on a Finnish national holiday, you could fly their flag. If you are planning a business meeting or social event with your Finnish partners, be sure to find out in advance whether it is appropriate and whether they are available on the planned date.
On the day preceding a religious or public holiday in Finland, Finns usually work reduced hours, which means that offices close by noon. As many church holidays, such as Epiphany, Easter Monday, and Ascension Day, are public holidays in Finland, it would show consideration to schedule business meetings on a different date. Although in many other countries these dates are still regular working days, it is polite to refrain from scheduling work events for church holidays in Finland. Considering local customs shows Finns that you respect their traditions.
In the following list of Finnish holidays in 2021, public holidays are marked in red. Other dates of importance for Finns are marked in black.
1 January 2021 – New Year's Day
Hyvää uutta vuotta! (Happy New Year!) Onnea ja menestystä uudelle vuodelle! (Good fortune and success for the new year!)
6 January 2021 – Epiphany or Three Kings' Day
Hyvää loppiaista! (Happy Epiphany!)
 5 February 2021 – Runeberg Day
Hyvää Runebergin päivää! (Happy Runeberg Day!)
14 February 2021 – Valentine's Day
Hyvää ystävänpäivää! (Happy Valentine's Day!)
2 April 2021 – Good Friday
3 April 2021 – Holy Saturday
4 April 2021 – Easter Sunday
  Hyvää pääsiäistä! Iloista pääsiäistä! (Happy Easter! Have a lovely Easter!) Pääsiäistervehdys! (Easter greetings)
5 April 2021 – non-working day due to Easter
1 May 2021 – Labour Day, Spring Day
Hyvää vappua! Iloista vappua! Hauskaa vappua!(Happy Walpurgis! Have a lovely Walpurgis! Have a great Walpurgis!)
9 May 2021 – Mother's Day
Hyvää äitienpäivää! (Happy Mother's Day!)
13 May 2021 – Ascension Day
Hyvää helatorstaita! (Happy Ascension Day!)
23 May 2021 – Pentecost
Hyvää helluntaita! (Happy Pentecost!)
26 June 2021 – Midsummer Day
Hyvää juhannusta! (Happy Midsummer Day!)
6 November 2021 – All Saints' Day, All Souls' Day
Hyvää pyhäinpäivää! (Happy All Souls' Day!)
14 November 2021 – Father's Day
Hyvää isänpäivää! (Happy Father's Day!)
6 December 2021 – Finnish Independence Day
Hyvää itsenäisyyspäivää! (Happy Independence Day!)
24 December 2021 – Christmas Eve
25 December 2021 – Christmas Day
Hyvää joulua! Rauhallista joulua! Iloista joulua! (Merry Christmas! Have a peaceful Christmas! Have a lovely Christmas!) Jouluiloa! Joulurauhaa! (Christmas cheer to you! Christmas peace to you!) Joulutervehdys! (Christmas greetings!)
26 December 2021 – second day of Christmastide
Hyvää tapaninpäivää! (Happy second day of Christmastide!)
31 December 2021 – New Year's Eve
Finns do not generally wish each other a happy New Year's Eve, but simply a happy new year.