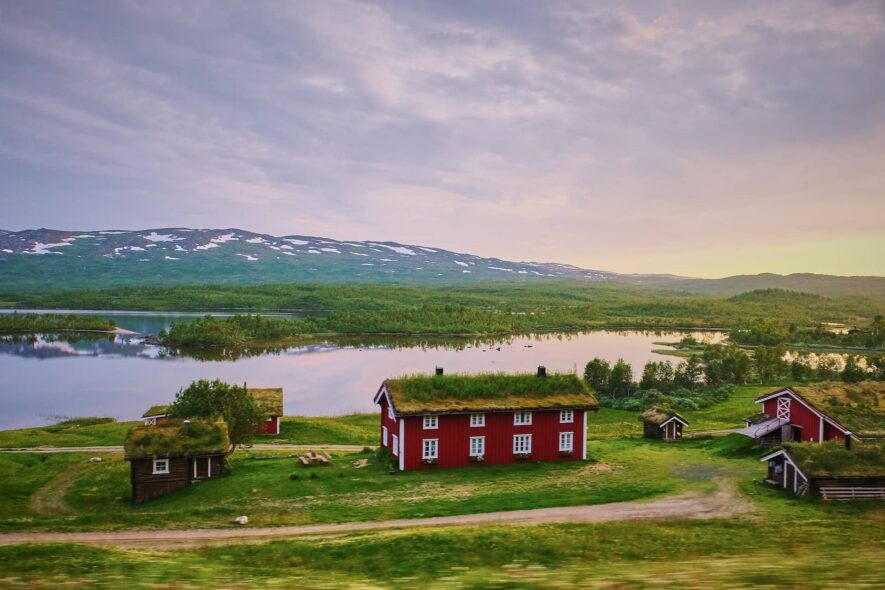 Holidays and traditions are held in high regard in Sweden; for example, Christmas plans are usually made as early as October. Customs are very important to the Swedish – so much so that on Christmas Eve there is a set schedule for when they attend the church service, eat Christmas dinner, and open presents. In celebration of the traditional pagan festival of Walpurgis Night, young people gather around bonfires across the country.
Swedes dress up as witches on Easter and dance around a maypole instead of a bonfire during the midsummer festivities. It is common practice in Sweden for working days to be shortened by two or four hours before a public holiday. The day preceding Christmas Day, New Year's Day and Midsummer Day is always a non-working day.
If there is one day between a holiday and the weekend, this is usually given as a day off. As that day is squeezed between the holiday and the weekend, it is called klämdag or squeeze day.
Although it is customary for shops to be closed on public holidays, Sweden is somewhat more progressive than Finland and Norway when it comes to religious holidays. Thus you can find more businesses open during the holidays in Sweden than in neighbouring countries and some bigger stores are even open throughout the holidays.
In Sweden, name days and birthdays of members of the Royal Family are official flag days. Flags are also flown on Election Day. The flag is usually hoisted at 8 or 9 a.m. and lowered no later than 9 p.m.
Holidays and observances celebrated in Sweden in 2022 are listed below together with the corresponding Swedish-language holiday greetings and well-wishes. Flag-flying days are marked in black and public holidays are marked in red.
1 January 2022 – New Year's Day
Gott nytt år! (Happy New Year!)
Önskar dig ett glädjefullt och framgångsrikt nytt år! (I wish you a joyous and prosperous new year!)
28 January 2022 — Name day of King Carl XVI Gustaf
6 January 2022 – Epiphany or Three Kings' Day
God trettondag! (Happy Epiphany!)
God fortsättning på julen! (Have a good rest in the holiday season!) This greeting can be used up until Epiphany.  
12 March 2022 – Name day of Crown Princess Victoria
15 April 2022 – Good Friday
God helg! (Happy holidays!)
17 April 2022 – Easter Sunday
Glad påsk! (Happy Easter!)
18 April 2022 – Easter Monday
Glad påsk! (Happy Easter!)  
30 April 2022 – Birthday of King Carl XVI Gustaf
1 May 2022 – May Day
Glad valborg! (Happy Walpurgis Night!)
Glad första maj! (Happy May Day!)
26 May 2022 – Ascension Day
Glad Kristi himmelsfärd! (Happy Ascension Day!)
5 June 2022 – Pentecost
Glad pingstdag! (Happy Pentecost!)
6 June 2022 – National Day of Sweden
Glad nationaldag! (Happy National Day!)
25 June 2022 – Midsummer Day
Glad midsommar! (Happy Midsummer!)
14 July 2022 – Birthday of Crown Princess Victoria
8 August 2022 – Name day of Queen Silvia
11 September 2022 – Election Day
5 November 2022 – All Souls' Day
Glad alla helgons dag! (Happy All Souls' Day!)
24 December 2022 – Christmas Eve
25 December 2022 – Christmas Day
26 December 2022 – Second day of Christmas
God jul! (Merry Christmas!)
COMMUNICATION THAT CROSSES BORDERS
Take a look at the increasing importance of exports to your business. We can provide you with translations as well as foreign language informational materials.
TRANSLY TRANSLATION AGENCY BLOG
Transly's blog is written by our dedicated team of translators, wordslingers and editors. We love what we do.
WHAT OUR CLIENTS ARE SAYING ABOUT TRANSLY
Good translations can take your business to a new level. We know how.
We were organising a large event – Tallinn Truck Show – and ordered a press release writing, press release editing and press release distribution service as well as a few translations from Transly. We were fully satisfied with Transly Translation Agency's professional attitude, speed and the results they achieved. Thanks to Transly's excellent work, our press release was published on practically all Estonian- and Russian-language media portals. 100% recommended!
Forest Steel
We needed a translation agency to have our online store translated into Finnish and were looking at quite a few providers. In the end, we decided to go with Transly Translation Agency and have been truly happy with our decision. The online store translation project was fairly large in volume, and every now and then we found additional snippets we had forgotten to send into translation. Despite this and thanks to Transly's team being so forthcoming, the job was always completed very quickly and the entire translation process went considerably faster than we initially expected...
Punktid.ee
Thank you very much for your collaboration! So far, all translations have been done professionally, the translators are competent and the translated texts, which are technical and difficult, are all understandable and correct. The translators work fast and observe the deadlines, which is very important to us. Customer service is professional and reliable. The prices are also competitive. We are very happy with the service and hope to continue this pleasant cooperation.
Translation Agency Customer Feedback: Icopal
icopal.com
GET IN TOUCH, WE'D LOVE TO HEAR FROM YOU
Don't forget to add your e-mail address and files and be sure to submit your enquiry. We will be waiting.