Estonian translation – why?
For one, Estonia is an advanced economy and among the fastest growing in the European Union. As English-Estonian translation is a very affordable service, having your marketing materials, product information, software or mobile apps translated into Estonian is a smart investment that will benefit you for years to come. Our translators and editors are skilled professionals, who, as native speakers of Estonian, will make sure your texts are perfectly adapted to the intricacies of the local market.
Why translate into Estonian?
Secondly, while the position of English as a global lingua franca is undeniable, studies show that people are still more likely to make online purchases on websites that are either fully or partly in their native language. Our language service team has extensive experience in website translation and is fully conversant with the latest SEO practices to help you take your business to the next level. We also offer SEO editing and copywriting in Estonian.
What kind of Estonian translation do you need?
Perhaps your translations are simply required by law. This is often the case with user manuals, safety instructions and product safety datasheets, for example. We have considerable experience in each of these fields, and our translators and editors are well equipped to handle both general as well as technical and specialised texts. With us, you can be sure that your Estonian translation is of a high standard and always delivered on time.
What kind of translation-related services do you need?
Or maybe your translation needs are of a more everyday sort. We provide quick and accurate translations of contracts, certificates, diplomas, correspondence, etc., and will be happy to help you with any other personal requests and, indeed, any additional translation-related services.
Why enter the Estonian market?
A key reason for entering this burgeoning market is that if your business is already active in the other Baltic states or in Scandinavia, Estonia is only a stone's throw away and an easy way to rapidly expand your business. The market is similar, and competition is generally lower than in Western European countries. Due to the straightforward and transparent nature of Estonians, doing business in Estonia is quick and easy and will not require any advanced preparation.
In the photo: Estonian fisherman trying his luck in the Emajõgi River under a bridge. You can bet he's got a smartphone in his pocket. Photo by Raido Vahtra ©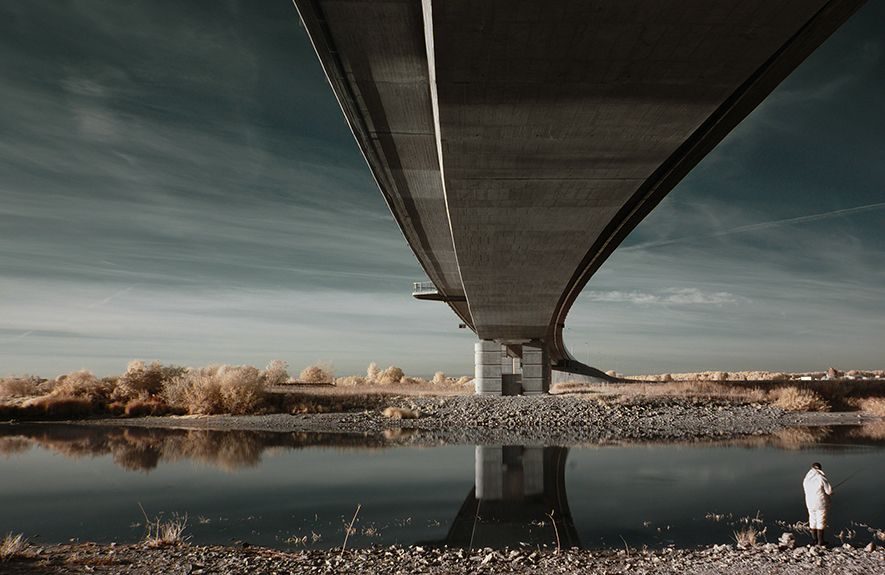 What makes the Estonian market unique?
If you are not yet operating in the region, Estonia serves as an excellent foothold for further expansion into both the Baltics and Scandinavia as well as the European Union as a whole. It is geographically well situated and offers connections to all the major European hubs. In 2014, Estonia also became the first and currently the only country in the world to offer e-residency. While e-residency will not grant you Estonian citizenship, it does allow you to quickly start a location-independent online business (establishing a company can be fully performed online and takes under an hour) and access to Estonian public e-services, including online banking, tax declarations and digital document signing.
Where is the Silicon Valley of Europe?
Furthermore, Estonia is one of the most extensively digitised societies in the world, having been the first to adopt online voting all the way back in 2005, with excellent Internet coverage, and most of its banking conducted completely online. Tallinn, the capital city of Estonia, is often called the Silicon Valley of Europe and the Freedom on the Net 2016 index ranks Estonia first in the world in terms of Internet freedom. All this combines to make Estonia a prime location for doing business, especially for tech, IT and online companies.
What should one consider when translating English texts to Estonian?
Estonian belongs to the Finnic branch of the Uralic language family and is closely related to Finnish and more distantly to the Hungarian and the Sami languages. Although it is quite far removed from most other major languages of the world, for historical reasons, Estonian has borrowed heavily – nearly a third of its vocabulary – from Germanic languages. Thus, one can find many similar words between Estonian and English, e.g. "loopima" and "to lob".
What is the Estonian language like?
This might lead you to think that translating between the two languages is easy, but the reality is that it's a complex process. Despite some shared lexicon, Estonian is a unique language. For starters, unlike English, it has no prepositions. Instead, Estonian uses a system of 14 grammatical cases with specific word endings to encode such information (for example, "house" is "maja" and "to the house" is "majani"). Estonian also features neither grammatical genders nor a future tense, which is instead expressed through the present tense and appropriate adverbs. This and many other peculiarities also make Estonian a considerable challenge for machine translation, which generally produces absurdly inaccurate results.
Therefore, while Estonians often greet any even remotely accurately pronounced Estonian spoken by foreigners with great approval, sadly, this does not apply in the world of business, where professionalism and correctness are expected. Combined with Estonians' pride in their national language, even the slightest misspellings in advertisements and press releases are frequently met with ridicule. However, our clients can relax in the knowledge that all our translators and editors continually apply the utmost standards in order to ensure that your Estonian translations and texts are terminologically accurate and free of any errors.
What else makes the Estonian language interesting?
Estonian, like its sister language Finnish, which inspired Tolkien's High Elvish (Quenya), is a very melodic language. It has a total of nine vowels, which can have three different lengths, and some incredibly vowel-rich words and phrases. These include, for example, "jõeäärne õueaiamaa" (vowels in bold and underlined – 13 in total), which essentially means "garden by the river".
What are the strangest words in Estonian?
As an agglutinative language, Estonian also allows the stringing together of a huge number of words in order to create new ones by converting preceding words into the genitive. One example of this, as well as of the aforementioned vowel-richness, is the artificially created 17-letter vowel-only compound "äiaõeoaaiaoaõieau", which translates into "honour of the bean-flower from father-in-law's sister's bean garden" although, admittedly, you probably won't find much use for that one.
In addition, some Estonian words can have up to four of the same vowel in a row, making phrases like "Kuuuurija töööö jäääärsel teeeendil" ("Lunar researcher's night of work on a road overhang at the edge of the ice") perfectly grammatical.
What does Estonian say about the Estonian people?
The beliefs, values and attitudes of a people are often well reflected in their idioms, proverbs and sayings. Thus, the Estonian language also reveals much about Estonians.
Every Estonian knows the saying "valel on lühikesed jalad" ("lies have short legs") and this belief is also evident in the direct and frank nature of Estonians.
When starting business in Estonia you will probably hear an expression "kes kannatab, see kaua elab" ("he who is patient shall live long"), and while Estonians will generally expect you to be on time for meetings, they do understand and accept that some things take time, which can make them more open to long-term investments. Funnily enough, the Estonian verb "kannatama" means both "to be patient" and "to suffer", which might also explain why Estonians are so frequently morbid and morose.
Along the same lines, Estonians frequently say "hommik on õhtust targem" ("the morning is wiser than the evening"). As such, Estonians are careful planners and do not make weighty decisions rashly, preferring instead to, so to speak, sleep on it. Although, in this regard, neighbouring countries tend to say something about Estonians being slow in nature, Estonians will insist that this is nothing less than wisdom.
Finally, "rääkimine hõbe, vaikimine kuld" ("talking is silver, silence is golden") is something that everyone will take notice of in Estonia. Estonians prefer to listen rather than talk and can be terrifyingly comfortable with long silences. While it is generally agreed that "küsija suu pihta ei lööda" ("you do not strike the mouth of one who asks"), the latter saying makes no mention of initiating conversations or offering opinions, which is why it is commonly considered proper etiquette not to do so.
How is the price of Estonian translations determined?
As we are an Estonian translation agency, translation from and into Estonian is one of our most affordable services. The exact price of translations, however, depends on the specific language pair, the subject matter (technical, legal, medical or other text), the volume of the translation (word count), the format of the source and target text, the desired deadline, and whether you require any additional services, such as proofreading, SEO editing, etc. Texts on more general day-to-day topics will cost less than technical and medical translations, for example, as, for the latter, we will employ a specialist translator or editor from an appropriate academic background to ensure that your translation is terminologically accurate, consistent and polished. Thanks to the use of professional translation software, we can also offer regular customers discounts on any repeat segments in the text.
How do I order an Estonian translation?
To order a translation from or into Estonian, please send us an enquiry along with the text you wish to have translated. If you cannot provide the text at this point, please indicate the estimated word count. Do not forget to include the function of the translation (i.e. for what and whom it is intended), the desired format for the completed translation, the deadline, and any additional remarks. Our project manager will be in touch with you shortly to ask any clarifying questions, if necessary, or provide you with a quote. If the offer is suitable, we will begin your translation as soon as you have confirmed it.
We offer Estonian translations from and into most major European languages (e.g. English, German, French, Russian, Latvian, Lithuanian). However, do not hesitate to contact us if your translation needs involve less common languages – we will always do our best to try and find a solution.
What other language services do we offer in Estonian?
In addition to translation, we also offer a number of additional Estonian language services, such as proofreading, editing, SEO editing, copywriting, SEO copywriting, etc. Our proofreaders and editors will make sure your text is flawless and we have a number of copywriters at our disposal with a wide variety of writing styles, who are prepared to take on any task, having compiled various user manuals and technical documents as well as website and marketing texts. Our Estonian-language professionals are all native speakers and will make sure your text is adapted to the local market and of high quality. If you cannot find your desired language service listed, please feel free to send us an enquiry and we will do our best to find a solution to your problem.